Active image stabilization system for drones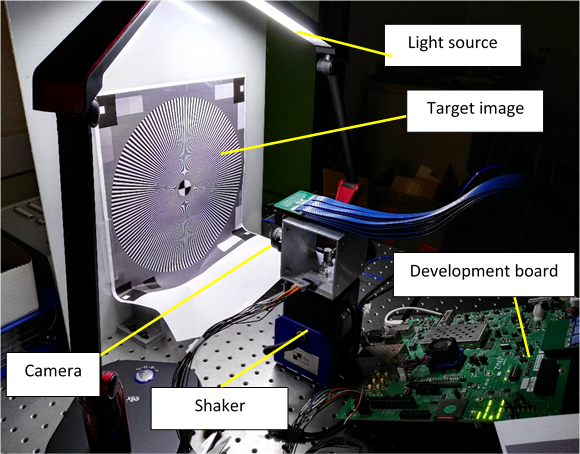 Figure: Test bench for the performance evaluation of image stabilization system
Drones are small unmanned aerial vehicles which can be controlled remotely. Recently, the drones have found the application in many different fields. They can be used for aerial photography, remote sensing, to monitor crops in agriculture, surveillance in military, rescue operations and even health monitoring of structures. The drones used in these applications are equipped with cameras. During the drone flight, the camera is subjected to vibrations which hamper the quality of the captured images/videos. This in turn reduces the effectiveness of the system.
The images captured by the drone are usually compressed and transferred to the host computer. The transferred images are then decompressed to recover the original images. The vibrations of the drone add lots of noise to the image. This noise is amplified during the process of compression and decompression. There are various methods available to stabilize the image digitally and reduce the effect of vibrations on the captured image. However, these methods only work for a particular range of frequency and amplitude of vibrations. There is need for a system which is more robust and works for a broader range of vibrations. This can be achieved through mechanical stabilization which targets the cause of vibration contrary to other methods which target the effect of vibration. The aim of this project is to develop a mechanical stabilization system such that it isolates the camera from the drone vibrations. This helps the camera to capture the images with the low noise.
This collaborative project denominated "Trusteye", involves Precision Mechatronics Laboratory (PML) in the BEAMS department at Université libre de Bruxelles (ULB), the PILAB and CRYPTO groups of ICTEAM at Université Catholique de Louvain (UCL) and the MICROSYS laboratory in Montefiore Institute at University of Liege (ULiege). Trusteye is funded by the Walloon region (WALinnov program) and intoPIX s.a.